Welcome to our first virtual Open House! We have some exciting activities for all ages, including tours, a puppet show and lots more.
Start clicking below and enjoy your visit!
Mad Buggy Scientist
Become a scientist and discover how bugs are used to clean dirty water at ALCOSAN.
Frankie & Cathy Puppet Show
Follow Frankie the Fish and Cathy the Catfish to find out what happens to the dirty water that goes down the drain at your house.
Science Rocks
The Nutty Science Professor entertains you with exciting science experiments! DO NOT try these at home!
The Awesome Spirit of Wildlife, Inc. (TASOW)
A presentation of reptiles, amphibians, and other awesome creatures that live in our watershed, and their ecological importance.


Clean Water Update
See our progress on reducing overflows.
Source Control
How source control projects are reducing overflows.
Preliminary Planning
Plans for conveying wet weather flows to ALCOSAN.
Plant Expansion
Expanding treatment processes for wet weather flows.
Regionalization
Updates and opportunities in our regionalization process.

Educational Activities
Cool home experiments and activities. Earn extra credit at participating schools.
Fireworks in a Jar
Explore liquid density for a colorful display.
Nature's Art
An art activity inspired by items found in nature.
Rethinking Wastewater
Gray water versus black water: can dirty water be recycled?
Volcano
Create an eruptive reaction using household items.
---
Students: when you complete your experiments and activities, click the link below to fill out and print a certificate that you can submit to your teacher.
Extra Credit Certificate

Plant Tours
Get behind-the-scenes looks at ALCOSAN.
Plant Tours
Flow through the liquid treatment process at ALCOSAN's 59-acre wastewater facility.
Kids Tour
Join Frankie to see how dirty water is cleaned and clean water is green.
Laboratory Tour
Step inside ALCOSAN's accredited lab to see how samples are tested for pollutants, bacteria and metals.
Interceptor Systems
Learn about the complex underground regional collection pipe systems.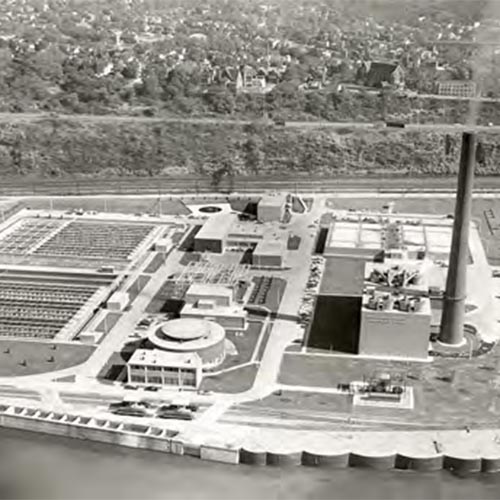 Did You Know?
The ALCOSAN system began operation in April 1959, and the treatment plant was formally dedicated on October 1, 1959.
Learn our History
Environmental Partners
Learn about environmental efforts in our community and enjoy some exciting activities and creative presentations.
Thank you for supporting our virtual event.
Please click each partner's logo below to learn more.